While the country, its people, the rich, and the businesses across India are coming together to contribute for the welfare of the poor during this coronavirus crisis, the traders of Connaught Place, Delhi's heart, have come together to feed the guards and workers of the area. Traders Of Connaught Place Continue Feeding The Workers & Distributing Sanitizers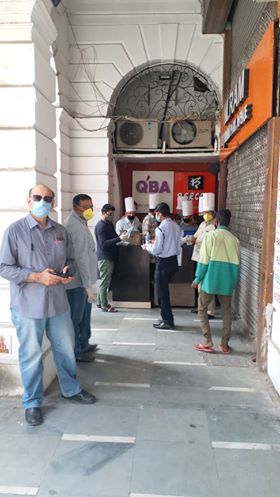 Almost the whole world is going through the crisis of COVID-19 and everything is under lockdown in more than 198 countries to stop the spread of Novel Coronavirus. In India, PM Modi announced complete lockdown throughout the country on 25th March. Since then, only essential services like ration, medical help etc., are being provided to people. The most affected people from this lockdown are the daily wages workers, as they cannot afford any food now neither they can pay their house rents. Since these workers are left with no money are starving from hunger because of which migrating to their hometown is the last option left for them.
Although the government has started giving food and shelters to the daily wages workers, there are many that are still fighting for meagre wages. While Many people like Bollywood Stars and other business owners have taken the initiative to feed these workers, one such initiative came into the light after we saw a line some workers and security guard who were waiting for their turn to get a meal by some people in the Connaught Place area of New Delhi.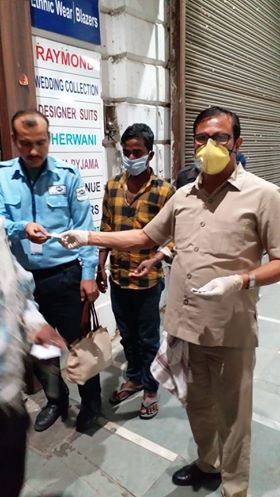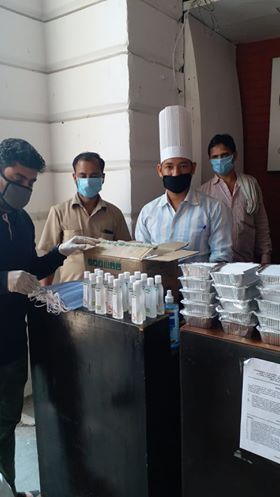 Traders and business owners of the Connaught Place have taken the initiative to feed the worker, security guards of the area and are regularly distributing 2-time meals and they have also ensured the hygiene of the workers by giving them free mask and sanitizers. These CP people are gems as they are giving 1 morning and 1 evening tea with biscuits as well. They have provided the local police station with mask and sanitizers so that the policemen can distribute them in other areas as well.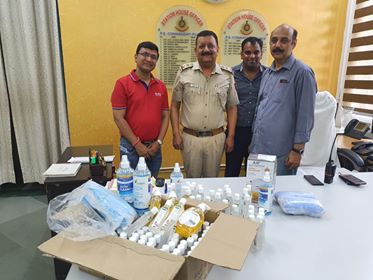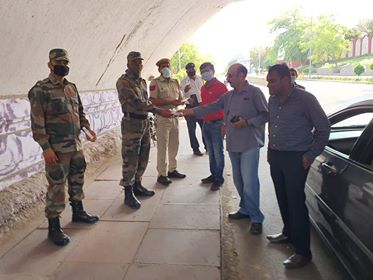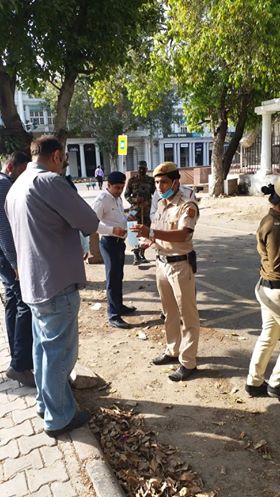 Sh Vinod Narang SHO Police Station says "As the days are passing by and Lockdown is becoming longer most food distributions have stopped and donors are shying away"…..But unlikely to this *CP Good Samaritan Kitchen* run by QBA & NDTA still stands strong distributing morning tea,Lunch -Bananas & Evening Tea to about 400-500 needy ones in full force as it enters the 35th Day of Distributions on first day of MAY 2020.
This Community Distribution facility is following strict norms of Social Distancing in the presence of Delhi Police officials present during distribution, where the Guards, Delivery boys, Petrol pump staff and street dwellers queue up in circular spots painted on the floor at a safe distance and at their turn collect food packets/tea & biscuits spread out on a huge table to ensure contactless distribution, we have also put up posters requesting them to wear masks and maintain social distancing.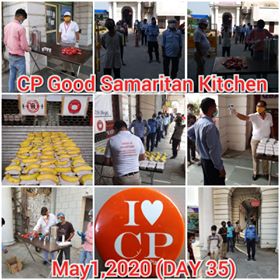 The QBA Kitchen facility where the meals are prepared is following strict sanitisation norms personally reviewed regularly by owner Aditya Jain with all staff to be in masks, gloves & shower caps. Besides this, they have also started checking the beneficiaries with an infra-red thermometer to ensure the safety of all.
The CP Good Samaritan Kitchen Project besides providing meals had also been distributing repeatedly masks & sanitisers on periodic intervals. We are committed to continuing this distribution until the Lockdown continues to make sure no one starves in Connaught Place. Executive Members of the *New Delhi Traders Association* are physically present themselves at the spot at all distribution times, to ensure that all norms and discipline is strictly followed and all get meals while being safe and socially distanced. Traders Of Connaught Place Continue Feeding The Workers & Distributing Sanitizers