Finally after two weeks full of struggle and disappointment Sakshi Malik wins a bronze medal for india in the Rio De Janerio Olympics 2016. She beat Aisuluu Tynybekova of Kyrgyzstan 8-5 in the women's freestyle wrestling in the 58kg weight category to win the bronze medal match. She was among those only four women who had qualified for the Rio Olympics. Being the only one to get a medal at Rio Olympics this year and also by being a woman, Sakshi has proved that she stands as an icon for all the women in this country.
Sakshi has won the fifth wrestling medal in Olympics and it is India's 25 medal in Olympics. She was born on September 3, 1992, in Rohtak, Haryana. Sakshi's parents are extremely supportive and have always encouraged her rather different career choice. She began her journey when she was 12 years old. Her trainer Ishwar Dahiya started grooming her at an akhara in the Chotu Ram stadium. She had to fight with a lot of boys as this sport was not for women.
Dahiya also had to face many protests regarding his decision to train Sakshi. However as Sakshi's grandfather was one of the great wrestlers, she had enough support amongst the community to carry on . At the age of 18 she won a bronze medal at the junior world championships in the 59kg category. She became famous after winning a gold medal at the Dve Schultz International Wrestling Tournament in 60 kg. After winning a silver medal in the 2014 Commonwealth Games in Glasgow her professional career took a steady pace. She also won a Bronze in the Senior Wrestling Championships in Doha.
Sakshi belongs to Haryana, a place where sex selective abortions have always been in trend. She's a part of a north Indian state where apart from female foeticide, women are normally considered as second class citizens and "honour killings" are very common. She has been constantly sniggered at and many fingers were pointed towards her when she wore shorts or wrestled with boys.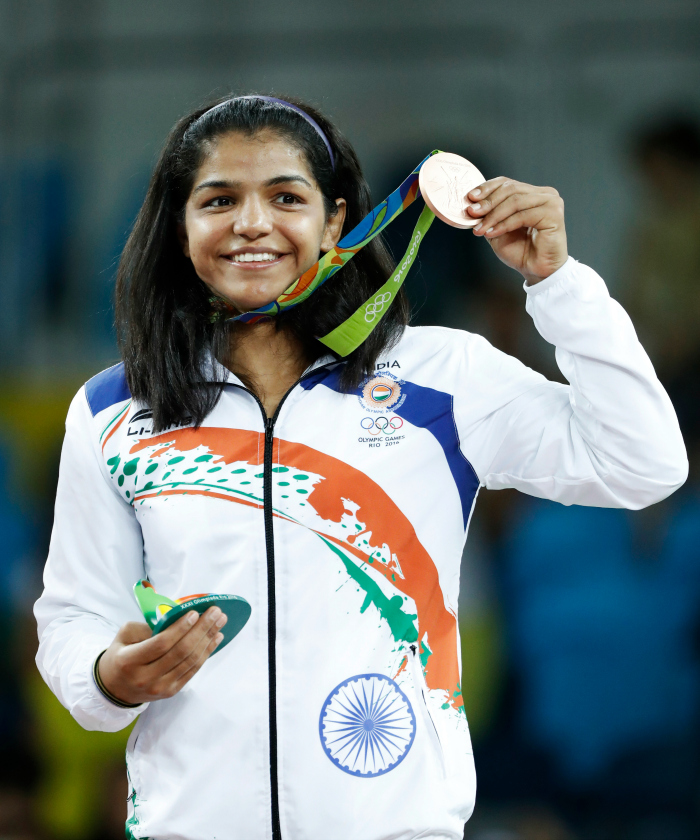 While celebrating Sakshi's victory Vinesh's sacrifice should not be overlooked. Vinesh Phogat got hurt in her right leg during a mtach and India's spirit for winning medal a medal at Rio this year almost got crushed. At first when she got hurt it seemed like a terrible knee injury but she continued with the game. But as soon as her knee got into a gruesome angle with the Chinese wrestler, it had some weight on it and her face said it all. As a result her Chinese opponent was declared as the winner. She came ahead to say sorry but was held back as medics began to take her stretcher off. Dipa Karmakar also pulled off the vault of death successfully, but was pipped off to get the fourth position in gymnastics where India has never had a sporting icon.
Bollywood, politicians and all kinds of celebrities have been congratulating Sakshi on her victory. From Aamir Khan to Sachin Tendulkar everyone has been sending her their best wishes through twitter. Ali Abbas Zafar , Sultan's direct referred to Sakshi as 'haryana ki sherni', just like Anushaka Sharma's character in his movie.
Out of 118 athletes sent by India in Olympics only 1 has gained success and ended the dry spell winning a bronze medal.PV Sindhu followed up in women's badminton where she is in contention for the gold medal in a fight that could keep millions of hearts fluttering.