Pusarla Venkata Sindhu on Thursday became the first Indian woman to win a silver medal in the Olympics. Spain's Carolina Marin beat her 21-19, 12-21, 21-15 in a nail biting close fought badminton final at the Rio Olympics on Thursday. The Indian metals tally received a much needed boost as PV Sindhu won a Olympics Silver after Sakshi clinched a wrestling bronze.
Prior to the Games, she said, "The biggest dream I am chasing now is an Olympic medal. I remember watching Saina in London. Then I was ranked World No. 25. I always longed to be there and I am all excited to represent India in Rio." She broke into the Top 20 in 2012, and is currently ranked no. 10 in the world. Sindhu scripted a stellar 22-20, 21-19 win against World No. 2 and London Games silver medallist Wang Yihan to enter the women's semifinals. Her fierce strokeplay and aggressive cross-court returns have been the highlights of her game so far. She rated her win over the London Olympics silver medallist as one of the best moments of her career.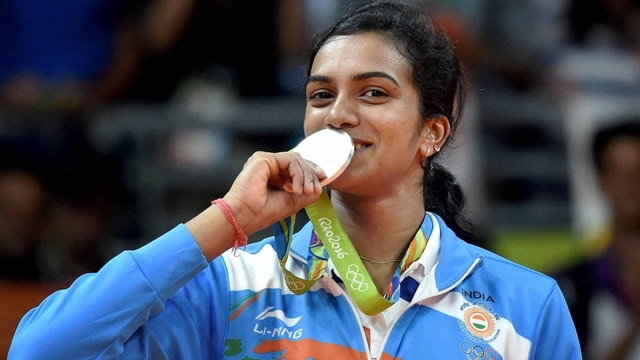 From BMW to Rs 2.05 crore and land, it's raining gifts for PV Sindhu
Awards and accolades await P V Sindhu as Telangana and Andhra Pradesh prepare to welcome home the badminton ace. From Hyderabad to Vijayawada to Visakhapatnam, corporates, businessmen and jewellery showrooms are waiting to show their appreciation for the medal-winner in cash and gifts.
The first gift that Sindhu will receive is a BMW from V Chamundeshwarnath, president of Hyderabad District Badminton Association. Telangana government announced a cash awards of Rs one crore. Sources said that Government is also likely to gift land to Sindhu. Badminton Association of India too announced a reward of Rs 50 lakh for Sindhu and Rs 10 lakh for Gopichand. The All India Football Federation also awarded Rs 5 lakh each for both Sindhu and Sakshi Malik.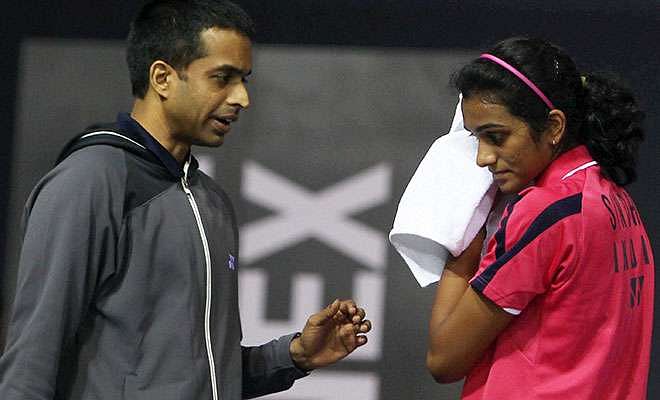 Pullela Gopichand : The coach that every Indian sportsperson needs
For the past two years, Olympian turned coach, Pullela Gopichand has showcased his ability to churn out winners like Saina Nehwal, PV Sindhu and K Srikanth, from his academy in Hyderabad.While India celebrated its first assured silver medal with PV Sindhu's win on Thursday and looked forward to a possible gold medal, there was one man that was on everybody's mind - Pullela Gopichand.
Those early morning sessions in the wee hours that he is famous for have not only sculpted the skills of players like PV Sindhu and K Srikanth but have also made for tougher minds. On account of this man, India in the quest for a podium finish, Gopi can go to any extent. With Sindhu too, the line was drawn: Gopi's word is law. He is extremely strict and his academy has no place for indiscipline. Sugar is banned from the premises and you have to do with Gud or Honey. Gopi treats her like a kid, a work in progress who needs his encouragement and guidance 24×7. Sindhu, who has trained with Gopi for the last 12 years, has acknowledged that she has learnt her game entirely from him and follows his word blindly.
Born in 1973, Gopichand was self-taught and determined at the sport, winning the All England Open Badminton Championship in 2001 - the second Indian to achieve this after Prakash Padukone.He received the Arjuna Award in 1999 and the subsequent Dronacharya award in 2009. In 2000, after a loss at the Sydney Olympics, Gopichand was unsure if he could participate in the next Olympics and decided to turn coach instead.
In 2014, he was awarded India's third highest civilian award - the Padma Bhushan. Sindhus's parents themselves give the entire credit of their daughter's win to Gopichand.